CATEGORY: Our Team
We've hired four interns to help us in marketing xtra xtra throughout the Boston area. Meet the new members of our team and find out what makes them tick, and be sure to look for them in and around Boston as they venture out to local communities and spread the word about xtra xtra. Each intern is assigned two communities where they'll be attending events, visiting local businesses, and talking about xtra xtra, so keep your eyes peeled for these friendly faces in your town!
Name: Josiane Bailon
Communities You've Called Home: Westchester County, NY; West Hartford, CT; Cambridge, Ma.
Schools You've Attended: Conard High School, West Hartford, CT, 2009; Art Institute of Boston at Lesley University, Boston, MA, 2013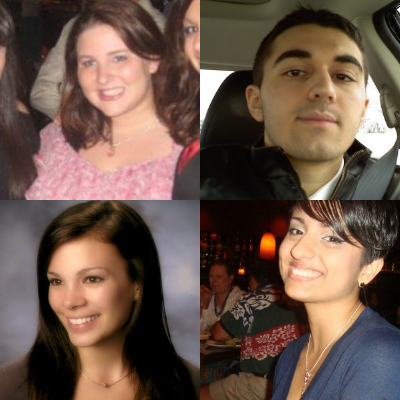 Interests and Activities: I love long walks on the beach and candlelit dinners. (I'M KIDDING!)…I love art– creating, looking and learning about it. I enjoy spending time with friends and family since I'm very family-oriented. I love going out to eat- trying new foods, exploring new places, watching movies etc. I like photographing the world and people around me and constantly being motivated and inspired.
xtra xtra Communities: I am in charge of Cambridge & Somerville.
A Memorable Milestone from Your Life: During my last two years of high school I was already sure of what I wanted to do for the rest of my life and that I wanted to be a Photography major in an art school. So I spent those years extremely driven and focused by constantly developing work and concepts. My teachers recognized my eagerness and change from my earlier years as a student so the faculty and staff awarded me with a scholarship at the end of my senior year for my vast turn-around and academic achievements. It was such a great and memorable way to leave high school and it also drew me closer to the teachers and staff that were really involved in helping me succeed throughout those four years.
Name: Mimi Alperovich
Communities You've Called Home: I was born in Boston and grew up in Newton, Mass. I stayed very close to home for college and even work in Newton!
Schools You Attended: Newton South High School; Simmons College; University of Massachusetts–Boston
Interests and Activities: I enjoy all sorts of exercise, from a group fitness class to hip hop dancing. I love spending as much as possible time outside during the Summer. My family has a house at the Cape and I try to go every available moment!
xtra xtra Communities: I am responsible for Newton ( my hometown! ) and Brookline
A Memorable Milestone from Your Life: A huge milestone for me has been the birth of my two nieces and one nephew. Family is very important to me and I love watching mine grow!
Name: Laura Valley
Communities You've Called Home: I lived in Watertown, MA until 2000 when I moved to Newton, MA
Schools You Attended: I graduated from Newton North High School in 2010 and I am a current student at UMass Boston
Interests and Activities: I love to shop and watch movies.  I also ski with my family and I have always played soccer.  Every weekend I watch the Patriots, I am obsessed with football and hockey!
xtra xtra Communities: Natick and Framingham
A Memorable Milestone from Your Life: Graduation back in June was amazing. I was so proud of myself and my friends. It was great to be surrounded by family, friends, and faculty who have supported me though high school.
Name: Jeff Capuano
Communities You've Called Home: Ludlow, MA; Springfield, MA
Schools You Attended: Wilbraham & Monson Academy, Lasell College
Interests and Activities: SCCA, Cars, Motocross, Soccer, Football, H.A.L.O. Jumping, Zorbing, Camping, Rock Climbing, Cooking, Fishing, Hunting, Boating, Scuba Diving, MMA, Brazilian Jiu Jitsu, Muy Thai, Whitewater Rafting, Guitar, Drums, Reading, Poker, Billiards, Parkour
xtra xtra Communities: Waltham & Lexington
A Memorable Milestone From Your Life: A memorable event that happened in my life is when I went H.A.L.O. Jumping at the West Tennessee Skydiving Center outside of Memphis, TN. It was an exhilarating experience and I will never forget free-falling through the clouds and being suspended in the air for minutes.
Welcome to our interns! We can't wait to see what they'll achieve this semester!
Oct 28, 2010 by admin
1 Comment