Last week we told you about a new feature on xtra xtra, but today we wanted to remind you about an existing feature that everyone can use: comments!
There's a comments section beneath every milestone posting on the site, and it's a great space to say congratulations, reconnect with an old friend, or pay your respects. xtra xtra helps people discover the latest personal headlines from their favorite communities, and we love seeing people share celebrations and sympathies with the people who've touched their lives in the present and past. Here are a few of the great comments we've noticed on the site so far…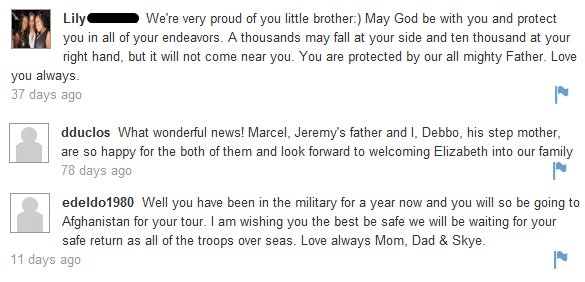 Visit xtra xtra and search for your favorite communities. Perhaps you'll find a posting from an old friend or a story about a former classmate. If you do, take a moment and leave a comment; congratulate them on their achievements, celebrate  their victories, and honor their losses. We designed this site to bring communities closer together, and that starts with the messages you send to one another.
We are designing functionality that will alert milestone creators when someone comments on one of their posts. In the meantime, though, visit your local xtra xtra pages and create a conversation. You might learn something exciting, and you might rediscover an old friend.
Til next time,
CH
Nothing yet.
Leave a Reply
Mar 25, 2011 by cooley
No Comments