Steph and I had a great time presenting to the social media students at UMass Boston last week, and we particularly enjoyed learning more about the projects the students are undertaking. These up-and-comers are doing fabulous work with blogging and social media, and we had a blast learning more about their work and aspirations.
The students have been tasked with creating, maintaining, and promoting a blog. They were encouraged to select their own topics and work in teams, and they've created some really impressive projects.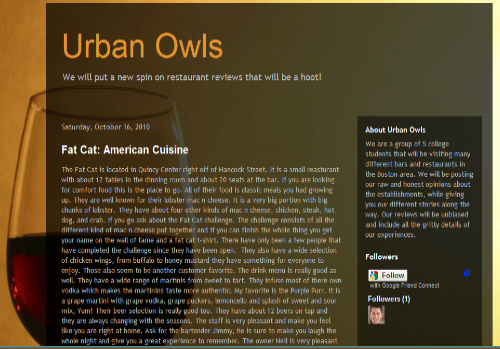 Many of the blogs connect to life in and around Boston, so we figured we'd link them here. Take a look at these student projects, and leave them some feedback!
These are the Boston-focused projects…
Their blogs also cover topics outside of the city…
Enjoy the blogs, and  be sure to leave a few comments to cheer them on in their efforts!
Till next time,
CH
Nothing yet.
Leave a Reply
Oct 25, 2010 by cooley
No Comments