Do you miss school? The fun of games on the playground? The thrill of gossip in the high school cafeteria? The freedom of life in college?
We miss school, too, so that might be one of the reasons why there are over 34,000 colleges and high schools in the xtra xtra database. The main reason? We want to help you reconnect with your favorite schools and classmates. That means we have over 34,000 individual school pages with news, updates, and announcements written and shared by your fellow alums.
Unlike Classmates.com, xtra xtra is completely free. You can read and post your announcements at no cost, and each posting can be tagged to your favorite towns, high schools, and colleges. It's a great way to stay connected to your favorite schools and the friends you made there.
You can find all kinds of information on your school page. Here are a few of the headlines from the Boston College page (it's my alma mater—go Eagles!)…
You can also find professional updates from former classmates, birth announcements, weddings, and other special milestones. Visit xtra xtra and see what's new with your favorite schools. Just choose "Search By School" and start typing a school in the search field.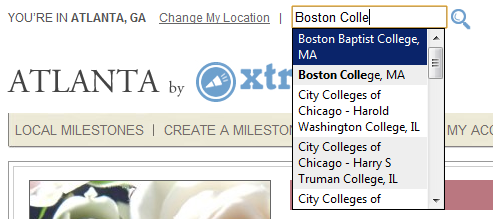 Don't forget to create a free milestone to share with your classmates, and have fun exploring different schools and towns!
Til next time,
CH
Nothing yet.
Leave a Reply
Aug 27, 2010 by cooley
No Comments