Earlier this week, we decided to get "xtra" creative and put together some special xtra xtra gear. We designed some t-shirts and sweatshirts featuring our old logo last year, but now it's time to update our closets with our latest look.
Jamie got busy with some designs and created some really sharp ideas for xtra xtra gear, so Steph and I went shopping and grabbed armloads of soft t-shirts that will soon feature our logo. We also purchased some onesies to share with new parents and their babies. After all, birth announcements are among our favorite milestones!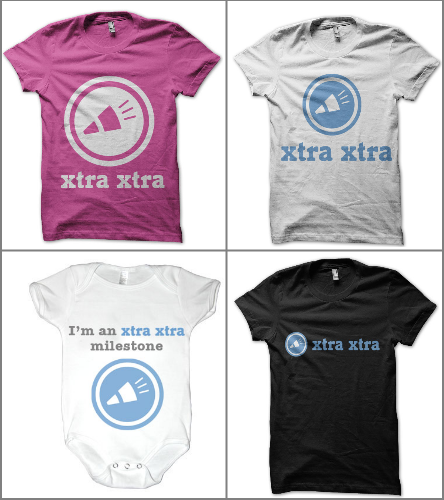 We'll share some more pictures when the t-shirts are all finished, but we're very excited!
What do you think of our designs? Any ideas or suggestions for other designs? Let us know!
Best,
CH
Nothing yet.
Leave a Reply
Jun 24, 2010 by cooley
No Comments