On St. Patrick's Day, Everyone is Irish. Even xtra xtra!
Here are some interesting facts about St. Patrick's Day. Share your trivia in a comment below!
St. Patrick is known as the patron saint of Ireland, and he founded over 165 churches.
The first St. Patricks' Day parade took place in New York City in 1762 as Irish soldiers in the English military marched through the city.
The New York City St. Patrick's Day Parade the world 's oldest civilian parade and the largest in the United States, with over 150,000 participants.
Last year, nearly one million people participated in St. Patrick's Day festivities in Dublin.
Over 40 pounds of green vegetable dye are poured into the Chicago River to give it the shamrock-green tint.
More than 40% of Americans—including President Obama—can trace their family histories to Irish roots.
If there's not a rainbow to be found, legend has it that you can find a leprechaun by following the sound of his shoemaker's hammer. Stories say that leprechauns apparently enjoy making shoes in their spare time.
And if you really want to be "green"….
Create a milestone at xtra xtra! Our paperless announcements are friendly to the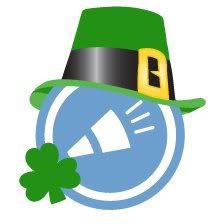 environment, and it takes only a few moments to share a story with your community. Remember to post your St. Patrick's Day pictures in our Local Photos section, and have a great time celebrating this fun holiday!
Til next time,
The xtra xtra team
Nothing yet.
Leave a Reply
Mar 17, 2010 by cooley
No Comments